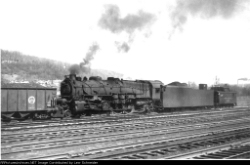 Welcome to the RRPictureArchives.NET contributor site of Lewis Schneider.

In the early 1950s I traveled to college from St. Louis to Boston via the Pennsylvania and sometimes the New York Central Railroads. Often I would stop in Greensburg, Pennsylvania to visit my grandfather and aunt. Their house was about a quarter of a mile from the four track PRR Pittsburgh Division. It was a wonderful time to watch trains. The Pennsy still ran all sorts of steam including T-1s and J-1s. First generation diesels were also plentiful including such oddities as the Baldwin Centipedes and the FM Erie Builts. I wish I had taken better notes. For example, it's not clear whether my SW Tower series was shot in 1951,1952, or 1955. Please let me know if you can date the SW series more precisely, based on what was coming down the track.

I've had so much fun with this first album, that I've posted several more covering such diverse topics as trolleys, Colorado railroads, and a fan
trip on the Ligonier Valley Railroad. All of the photos are from the 1950s and 1960s. Please feel free to correct me if you see any mistakes in the captions.


You may browse my collection of pictures via the menu located on the left hand side of the page. I hope you enjoy the collection and thanks for stopping by!
Note: This site is best viewed in Internet Explorer 6.0 or above.
Select one of the links from the menu on the left to begin browsing the collection.